Conductress Li Jing shows the "Quiet Car" service prompt card on high-speed train G8609 from Chengdu East Railway Station in southwest China's Sichuan Province to Shapingba Railway Station in southwest China's Chongqing on Dec. 24, 2020. Some high-speed trains in China have piloted "quiet cars" for passengers who opt for a quiet and undisturbed travel experience. The "quiet car" is often the No. 3 carriage on the train, with onboard videos muted and announcements made at a lower volume. Doors at the ends of the carriage will be closed to reduce noise from the vestibule. The service is now available on some trains of the Beijing-Shanghai high-speed railway and Chengdu-Chongqing high-speed railway, starting from Thursday. (Xinhua/Xu Bingjie)


Conductress Li Jing explains the notice of taking "Quiet Car" to passengers on high-speed train G8609 from Chengdu East Railway Station in southwest China's Sichuan Province to Shapingba Railway Station in southwest China's Chongqing on Dec. 24, 2020. Some high-speed trains in China have piloted "quiet cars" for passengers who opt for a quiet and undisturbed travel experience. The "quiet car" is often the No. 3 carriage on the train, with onboard videos muted and announcements made at a lower volume. Doors at the ends of the carriage will be closed to reduce noise from the vestibule. The service is now available on some trains of the Beijing-Shanghai high-speed railway and Chengdu-Chongqing high-speed railway, starting from Thursday. (Xinhua/Wang Xi)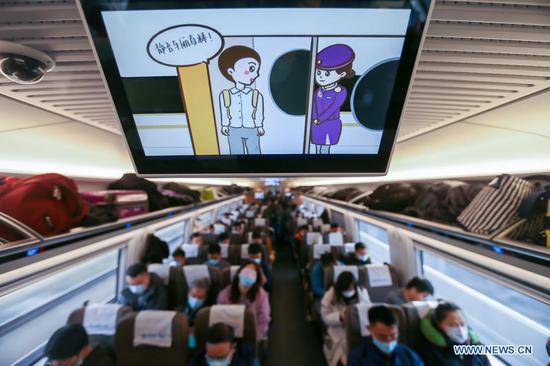 Photo taken on Dec. 24, 2020 shows the "quiet car" service promotional video on the "quiet car" of the G2 bullet train of the Beijing-Shanghai high-speed railway, which links Beijing, capital of China, and east China's Shanghai. Some high-speed trains in China have piloted "quiet cars" for passengers who opt for a quiet and undisturbed travel experience. The "quiet car" is often the No. 3 carriage on the train, with onboard videos muted and announcements made at a lower volume. Doors at the ends of the carriage will be closed to reduce noise from the vestibule. The service is now available on some trains of the Beijing-Shanghai high-speed railway and Chengdu-Chongqing high-speed railway, starting from Thursday. Passengers aboard the "quiet cars" must obey rules such as keeping volumes low and wearing headphones or turning off speakers while using electronic devices. They should also leave their seats to make or answer a call, and their phones should be muted or turned to vibrate mode during the trip. The move led to heated discussions on the Internet, with many welcoming the new practice. (Xinhua/Wang Xiang)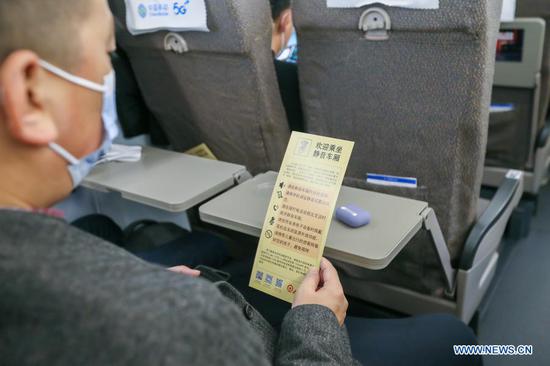 A passenger reads the service prompt card on the "quiet car" of the G2 bullet train of the Beijing-Shanghai high-speed railway, which links Beijing, capital of China, and east China's Shanghai on Dec. 24, 2020. Some high-speed trains in China have piloted "quiet cars" for passengers who opt for a quiet and undisturbed travel experience. The "quiet car" is often the No. 3 carriage on the train, with onboard videos muted and announcements made at a lower volume. Doors at the ends of the carriage will be closed to reduce noise from the vestibule. The service is now available on some trains of the Beijing-Shanghai high-speed railway and Chengdu-Chongqing high-speed railway, starting from Thursday. Passengers aboard the "quiet cars" must obey rules such as keeping volumes low and wearing headphones or turning off speakers while using electronic devices. They should also leave their seats to make or answer a call, and their phones should be muted or turned to vibrate mode during the trip. The move led to heated discussions on the Internet, with many welcoming the new practice. (Xinhua/Wang Xiang)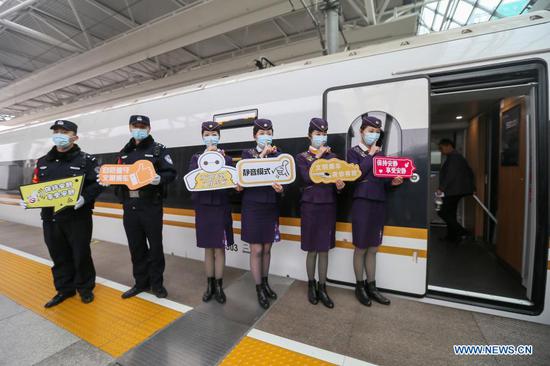 Staff members promote the "quiet car" service in front of the G2 bullet train of the Beijing-Shanghai high-speed railway at Hongqiao Railway Station in east China's Shanghai, Dec. 24, 2020. Some high-speed trains in China have piloted "quiet cars" for passengers who opt for a quiet and undisturbed travel experience. The "quiet car" is often the No. 3 carriage on the train, with onboard videos muted and announcements made at a lower volume. Doors at the ends of the carriage will be closed to reduce noise from the vestibule. The service is now available on some trains of the Beijing-Shanghai high-speed railway and Chengdu-Chongqing high-speed railway, starting from Thursday. Passengers aboard the "quiet cars" must obey rules such as keeping volumes low and wearing headphones or turning off speakers while using electronic devices. They should also leave their seats to make or answer a call, and their phones should be muted or turned to vibrate mode during the trip. The move led to heated discussions on the Internet, with many welcoming the new practice. (Xinhua/Wang Xiang)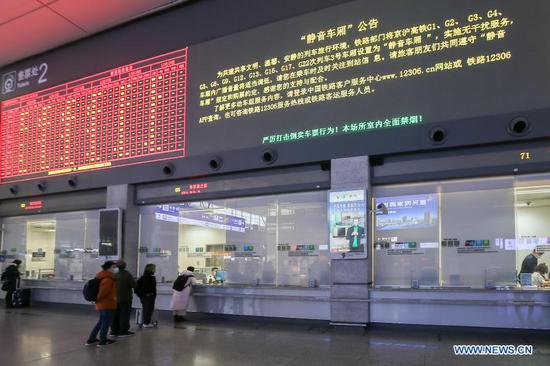 A screen promoting the "quiet car" service is seen at Hongqiao Railway Station in east China's Shanghai, Dec. 24, 2020. Some high-speed trains in China have piloted "quiet cars" for passengers who opt for a quiet and undisturbed travel experience. The "quiet car" is often the No. 3 carriage on the train, with onboard videos muted and announcements made at a lower volume. Doors at the ends of the carriage will be closed to reduce noise from the vestibule. The service is now available on some trains of the Beijing-Shanghai high-speed railway and Chengdu-Chongqing high-speed railway, starting from Thursday. Passengers aboard the "quiet cars" must obey rules such as keeping volumes low and wearing headphones or turning off speakers while using electronic devices. They should also leave their seats to make or answer a call, and their phones should be muted or turned to vibrate mode during the trip. The move led to heated discussions on the Internet, with many welcoming the new practice. (Xinhua/Wang Xiang)
BEIJING, Dec. 24 (Xinhua) — Some high-speed trains in China have piloted "quiet cars" for passengers who opt for a quiet and undisturbed travel experience.
The "quiet car" is often the No. 3 carriage on the train, with onboard videos muted and announcements made at a lower volume. Doors at the ends of the carriage will be closed to reduce noise from the vestibule.
The service is now available on some trains of the Beijing-Shanghai high-speed railway and Chengdu-Chongqing high-speed railway, starting from Thursday.
Passengers aboard the "quiet cars" must obey rules such as keeping volumes low and wearing headphones or turning off speakers while using electronic devices.
They should also leave their seats to make or answer a call, and their phones should be muted or turned to vibrate mode during the trip.
The move led to heated discussions on the Internet, with many welcoming the new practice.
"I make at least one round trip a week between Chengdu and Chongqing for work. I sometimes need to focus on my work or get some rest during the hour-long trip. The 'quiet car' is a good choice for me," said Li Like, a 34-year-old Chengdu resident.
"I found the option for a 'quiet car' when I booked the tickets, and I wanted to give it a shot," said Mou Xiaojiang, who took the G8609 train from Chengdu to Chongqing. "When I entered the carriage, signs reminding passengers to keep quiet were everywhere, and it was indeed much quieter than other carriages."
The China Railway Shanghai Group Co., Ltd told Xinhua that it conducted pre-job training for crew members to guide travelers.
"Many passengers are taking the Beijing-Shanghai high-speed trains for business trips, and they don't want to be disturbed. We hope that everyone on board will follow the rules and jointly enhance our travel experience," said Cai Jingfei, conductor of the G2 Beijing-Shanghai high-speed train.
"The 'quiet car' service gives passengers more value-added choices. It will help passengers observe public order, respect the rights of others, and create a more civilized traveling environment," said Ma Liang, professor at the School of Public Administration and Policy, Renmin University of China.