Feng Yongsheng (L), Feng Shuangsheng (C) and Feng Zhipeng of the geophysical survey team work in the Taklimakan Desert, northwest China's Xinjiang Uygur Autonomous Region, Feb. 25, 2021. (Xinhua/Hu Huhu)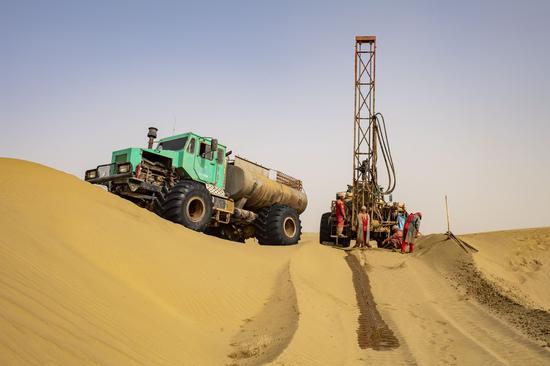 Workers of the geophysical survey team carry out the drilling work in the Taklimakan Desert, northwest China's Xinjiang Uygur Autonomous Region, Feb. 25, 2021. (Xinhua/Hu Huhu)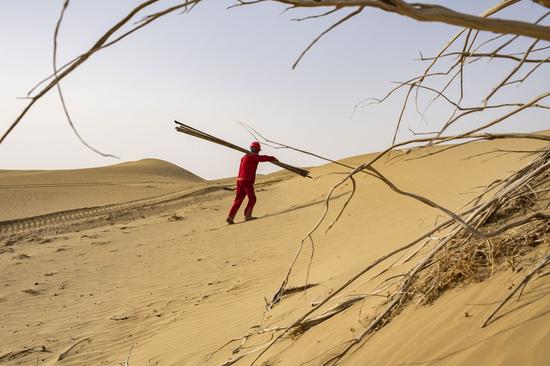 A worker of the geophysical survey team walks in the Taklimakan Desert, northwest China's Xinjiang Uygur Autonomous Region, Feb. 24, 2021. (Xinhua/Hu Huhu)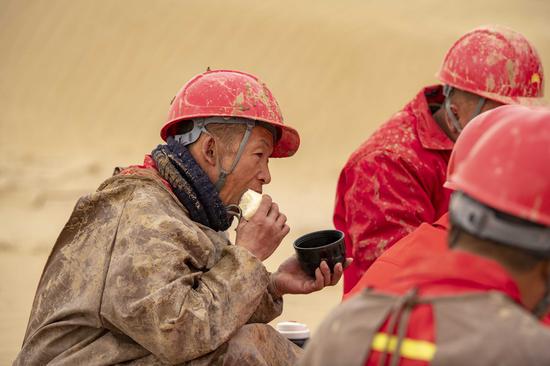 Workers of the geophysical survey team have lunch in the Taklimakan Desert, northwest China's Xinjiang Uygur Autonomous Region, Feb. 25, 2021. (Xinhua/Hu Huhu)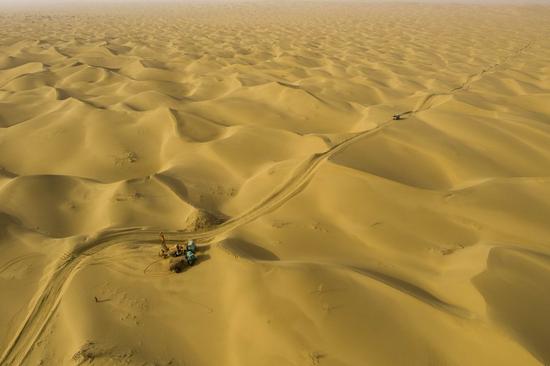 Aerial photo shows workers of the geophysical survey team carrying out drilling work in the Taklimakan Desert, northwest China's Xinjiang Uygur Autonomous Region, Feb. 24, 2021. (Xinhua/Hu Huhu)
URUMQI, March 10 (Xinhua) — Taklimakan Desert, located in the Tarim Basin of northwest China's Xinjiang Uygur Autonomous Region, is a major petroliferous region in China and one of the most difficult place to explore due to its harsh ground environment and complicated underground conditions.
Exploring oil and gas resources requires multiple processes including conducting geophysical surveys so as to collect seismic data to lay a solid foundation for further exploration. To perform the task, workers and researchers here need to overcome various challenges and difficulties posed by nature.
Every year, lots of workers from China's Yunnan, Qinghai and Gansu provinces come here to start geophysical survey work from October to March of the next year, the most favorable time.