Yao Zhenlin, a 67-year-old man, has donated the fourth floor of his house, which covers 800 squares meters, for the construction of a library for left-behind children in his village.
The new library, sitting between two schools, boasts a very convenient location. When it is put into use, it could benefit more than 800 students from the schools. With 10,000 books so far, the library plans to store 30,000.
Photo shows the fourth floor of Yao Zhenlin's house, which has been changed into a library. (Photo/www.qzwb.com)
Yao hopes the library will provide a space where children can read as much as possible, something he was not able to enjoy in his childhood due to poverty.
"When we didn't know where to build the library, Yao came to help immediately," said Chen Zhiquan, executive director of a volunteers' association in Hongmei township, Quanzhou city, southeast China's Fujian province.
About 70 percent of the town's young laborers are working away from their hometown, leaving their children at home, said Chen, adding that the library supported by Yao is the third of this kind in the town. Though the other two libraries are far away from his village.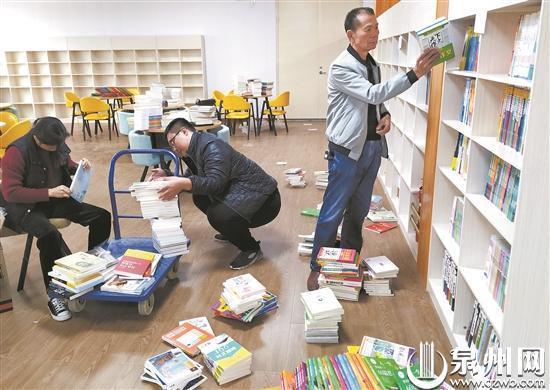 Yao Zhenlin (right) sort books with volunteers. (Photo/www.qzwb.com)
Before Yao donated the floor to the volunteers' association, it generated between 50,000 to 60,000 yuan in rent per year for Yao's income.
The second child of his parents, Yao dropped out of school at a young age to help his parents support the family. Having worked as a lumberjack and a coal miner, he built his wealth through hard work.
Over the past few years, Yao has spent more than 1 million yuan on public welfare projects. His family donated 4 million yuan to support Wuhan's efforts to fight the spread of the coronavirus outbreak.
While working on the decoration of the library, Yao encouraged his friends and relatives to donate materials and money. One of his younger brothers bought an elevator for the library with 200,000 yuan.